Find the best Online Craps Casinos in the USA with US Real Money Casinos. Craps is one of the most recognizable casino games out there. Players roll a pair of dice and bet on the outcome of the roll. It is very easy to see why the game has become so popular once you start playing.
However, Craps can look very complicated to new players. The Craps tables have numerous different betting options, and this often chases away newer players. While it is true that Craps is not the simplest casino game to understand, it is by no means difficult to learn.
Our comprehensive guide to playing Online Craps will walk new players through the basics of how to play Craps, give you some helpful tips and tricks and some betting strategies. Once you're done with our guide, we're confident that you will feel confident enough to jump in and start enjoying yourself.
Top-Rated Online Craps Casinos in 2021
How to Play Craps Online
When you first look at Online Craps, it will look extremely complicated and quite scary. While Craps is a very popular game, the fact that it looks so complicated is probably why it is not even more popular. The good news is that Craps isn't actually as complicated as it looks. For starters, the Craps Table is mirrored, with the left side duplicated on the right.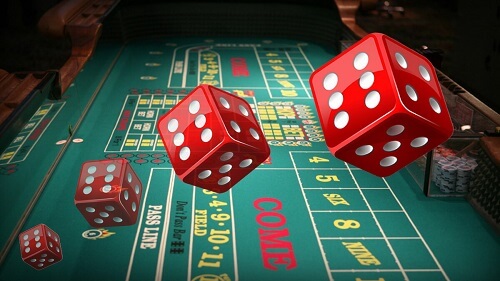 Once you realize that the left and right sides of the table are identical, it doesn't look nearly as complicated. The next thing you need to know is that the game of Craps is divided into two distinct phases known as the Come Out Roll Phase and the Point Phase.
Come Out Roll Phase
The game begins with the Come Out Roll Phase. Players need to begin by placing one of two bets. Players need to decide if they want to place a Pass Line Bet or a Don't Pass Line Bet. These are the only two bets available during the first phase of the game.
Once all players have decided which one of these bets they want to place, the Shooter rolls the pair of dice. For Pass Line Bets to win, the Shooter needs to roll a 7 or an 11. For Don't Pass Line Bets to win, a 2,3, or 12 will win. If any of these numbers are rolled, the winnings are paid out, and the game begins again. However, if any other numbers are rolled, the game moves on to the next phase.
Point Phase
If any number other than a 2, 3, 7, 11, or 12 is rolled, that number becomes known as the Point number. Once the point number is determined, the Shooter needs to roll the point number before they roll a 7. If they manage to do this, everyone who placed a Pass Line Bet in the first phase will win.
However, if a 7 is rolled before the point number, those who placed a Don't Pass Line Bets win. And that's about it, that's all you really know to get started with playing Craps. Numerous other bets can be placed, which we will cover later, but these are the important basics new players need to know.
Top Strategies for Online Craps
Now that you know the basics of how to play the game, you're probably curious about what kind of strategies you can use to improve your chances of winning. Well, we hate to be the bearer of bad news, but Craps relies exclusively on luck. It all depends on the roll of the dice, and there is nothing the player can do to influence that.
Players just need to place their bet, roll the dice, and hope for the best. However, we have made up a list of some tips and tricks players can use when playing Craps online to have a great experience.
Because this is a game of luck, not skill, it is possible to go on amazing winning streaks or horrible losing streaks. Because of this, it is very important to set a budget for yourself. Decide how much you are going to bet and if you lose the money, walk away. Do not try and bet more to chase your losses and try to win it back. This never ends well.
Set a limit for how long you want to play as well. Many people can get caught up in the action and can spend hours playing. This can cause problems if you play too much, so be safe and set a time limit.
This may sound silly, but you also need to decide on a win limit. Players need to decide how much they want to win and if they hit that number, stop playing. The reason is that your luck can quickly turn, and you wouldn't want to risk losing all those new winnings.
Don't be afraid to try out different bets. There are numerous different bets available. Each offers different odds and payouts. While we recommend sticking to the simple bets most of the time, have some fun, and try out some of the other options.
Always gamble with a clear mind. If you're angry, intoxicated, or anything like that, it may lead you to make poor betting decisions.
Why Play Online Craps
There are lots of good reasons to play Craps online, instead of at a land-based casino. For starters, it is much more convenient for players. No need to go out or get dressed up. Casino sites allow players to enjoy their favorite games from home.
Another good reason to play online is that it has a much slower pace. Players can take all the time they want to make betting decisions, without the pressure from other players. Then there are the amazing bonuses and promotions on offer at online casinos. While these won't always be much help for table games like Craps, it's still great to use the bonus cash to enjoy other games.
Play Free Craps Online
Because Craps isn't the easiest game to pick up and play, it is very important that players get some time to practice before making real money wagers. This lets you learn the basics, try out different bets, and get comfortable with the game. Once you're ready, you can switch over and play Craps for real money.
Playing for free can be beneficial for more experienced players as well. Playing for free allows experienced gamblers to try out new betting strategies and techniques. If their new plans work out, then they can take those plans into the real money game.
Live Dealer Craps
Some online casinos might also offer players the chance to play Live Dealer Craps. However, in the US market, these games are rare. Live Craps is also more difficult to find than other live dealer games. The online version of the game uses a Random Number Generator to determine the results of the dice roll.
Some players still prefer to have actual dice rolled, which is where Live Craps comes in. A real human dealer will roll real dice. The video is then live-streamed over the Internet to players who can place their bets as they would in online Craps.
Play Mobile Craps Today
These days, players don't just want to be able to play games like Craps from home; they want to be able to take the games wherever they go. Mobile Craps is the answer. The game is optimized to run on smartphones and tablets. This means the game works great with touch controls and smaller screens.
Some casinos have an app that can be downloaded, but most will simply allow players to log in to their existing accounts from their smartphone or tablet. It's as simple as that.
Top Online Craps FAQs